At Alchemy Goods, we are all about bikes. Our foundations as a company were in cycling, and we will always consider the cyclist community our constituency. There are few things greener than bike commuting, and few things that can make someone feel as free, strong, and in touch with the natural world. But we also recognize that cycling can be exclusionary, and that access to biking information, resources, and community is a social justice issue.

Low income individuals and people of color are actually more likely to bike for both recreation and transportation than high-income or white riders, yet there's one group that remains marginalized and underrepresented on the road: women.
One 2014 study of public bikeshare use by gender in the cities New York, Chicago, and Boston showed that women accounted for 24 percent, 21.4 percet, and 25 percent of all riders respectively. In London, a recent study showed that 77 percent of bike trips were taken by men, and only 5% of women identified as frequent cyclists. According to Rutgers University professor John Pucher, women constitute about 25 percent of bicyclists in the US, and at 28 percent (as calculated by the Seattle DOT), Seattle isn't doing much better. In fact, according to data from 2006-2010, we aren't even doing that well regionally: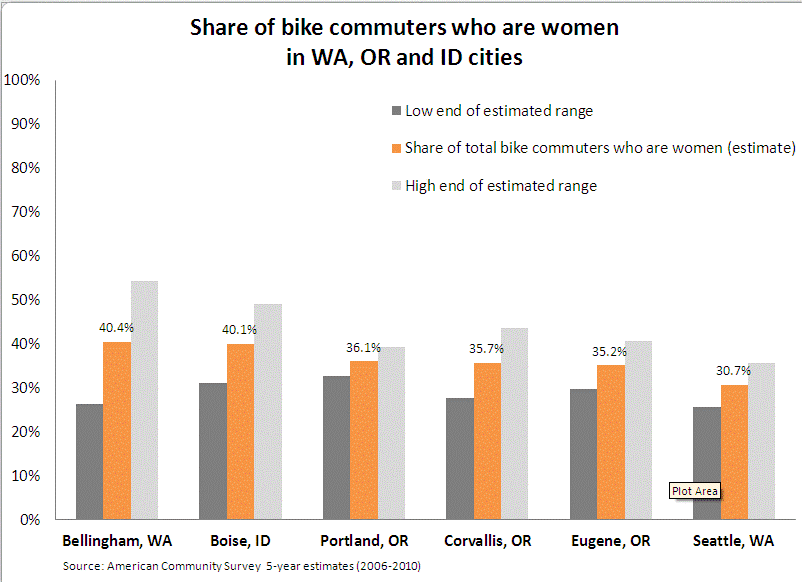 There is no denying that there's an imbalance, however, the times are changing, and Seattle has a ton of awesome bike opportunities for women right now. Indeed, in 2013, for the first time ever, every top leadership position in the five major Seattle-based bike organizations was held by a woman. We'd like to highlight a few of the cool opportunities for women-only rides and women-led groups in Seattle this Spring; and for general advice pertaining to women, we recommend checking out the super-helpful Women Bike Advice Column from Cascade Bicycle Club. 
UPCOMING EVENTS
This ride around Mercer Island will cover 14 miles with 700 feet of elevation gain, offering a fun challenge to beginners
The amazing national organization CycloFemme has an annual nation-wide all-women ride every year on Mother's Day. This year, CycloFemme is partnering with local Critical Lass to host a ride running from Cal Anderson Park to Seward Park, celebrating with a picnic at the finish line.
RECURRING EVENTS
From CBS in Fremont, four women will be leading these Group Rides every Saturday from April to August, meeting at 9am. All rides have different durations, paces, and paths, so follow the above link to check out their schedule and find the right ride for you, whether that means challenging climbs and new terrain or just having an opportunity to learn how to ride in groups on the road.
Every First Monday of the Month, this group of ladies rides out from the Seattle Center Fountain (meet up at 6:30pm, depart at 7pm!) for an easy, fun, and social ride around town.
These free, fun, and easy group rides are only about 45 minutes, kid and partner friendly, and a great entry point for women who might be nervous on the road.
This group mostly organizes impromptu group rides through Facebook, so join if you'd like to stay in the loop for events, bike-centric happy hours, or a newsfeed full of great articles and discussion.
Happy Spring trails, Alchemists! We truly believe that "sharing the road" applies to everyone, not just cars, and we hope that Seattle closes its cyclist gender gap and continue to host awesome opportunities like these!